Quiet Revelry
The Bill Irwin Chronicles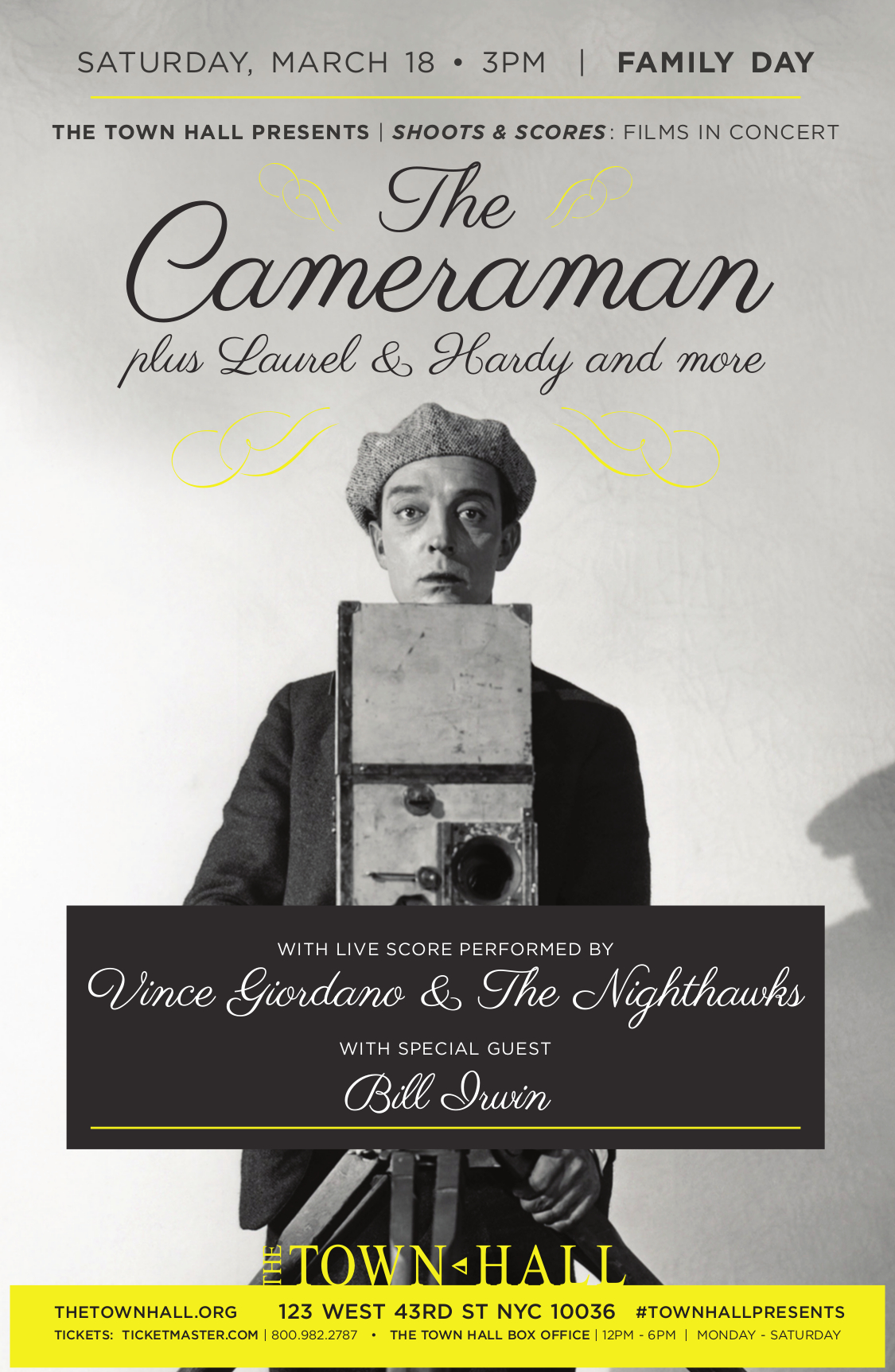 On Saturday March 18, 2017, at 3:00pm, the Town Hall will present New York audiences with a rare opportunity to see The Cameraman, a 1928 silent classic and one of Buster Keaton's richest and funniest pictures, as it was meant to be seen: on the big screen and with live music accompaniment. The live soundtrack, created out of songs and instrumental music from the 1920s will be performed by Grammy-winning multi-instrumentalist Vince Giordano and his 11-piece band The Nighthawks.

The family matinee program is part of the Town Hall's new series "Shoots and Scores", and will feature a screening of the Laurel & Hardy short "Double Whoopee" from 1929 along with a special guest appearance by the vaudeville-inspired actor and comedian Bill Irwin, who will perform a special song and dance routine and comedic sketch.
TICKETS: $25/30/35
http://thetownhall.org/event/vincegiordano
Ticketmaster 1-800-982-2787 http://www.ticketmaster.com/
Who is Bill Irwin? People tend to think of him as an actor, a dancer, a performance artist, a vaudeville clown. But he's also a producer, director, writer, and choreographer. Sometimes it's sort of hard to describe exactly what Bill does, but people who have seen him agree - he does it well.


Where have you seen him before?
Bill had recurring roles on the tv shows CSI: CRIME SCENE INVESTIGATIONS and LIGHTS OUT.
Bill plays Mister Noodle on the "Elmo's World" segment of SESAME STREET.
He's "that other guy" in Bobby McFerrin's video of "Don't Worry, Be Happy" with Robin Williams.
The Regard of Flight , which aired as part of PBS's GREAT PERFORMANCES series.
Northern Exposure, where he played "The Flying Man" who wooed Marilyn in seasons 3 ("Get Real") and 4 ("On Your Own").
His wonderful solo dance in the movie My Blue Heaven, starring Rick Moranis and Steve Martin.
Quiet Revelry is offered in cooperation with Bill Irwin as a gathering place for news, photos, and media.
Photos have been graciously provided by Bill Irwin or by the respective copyright holders.
This site is in the middle of being redesigned and expanded: some links may not yet be available. Thanks for your understanding and patience!